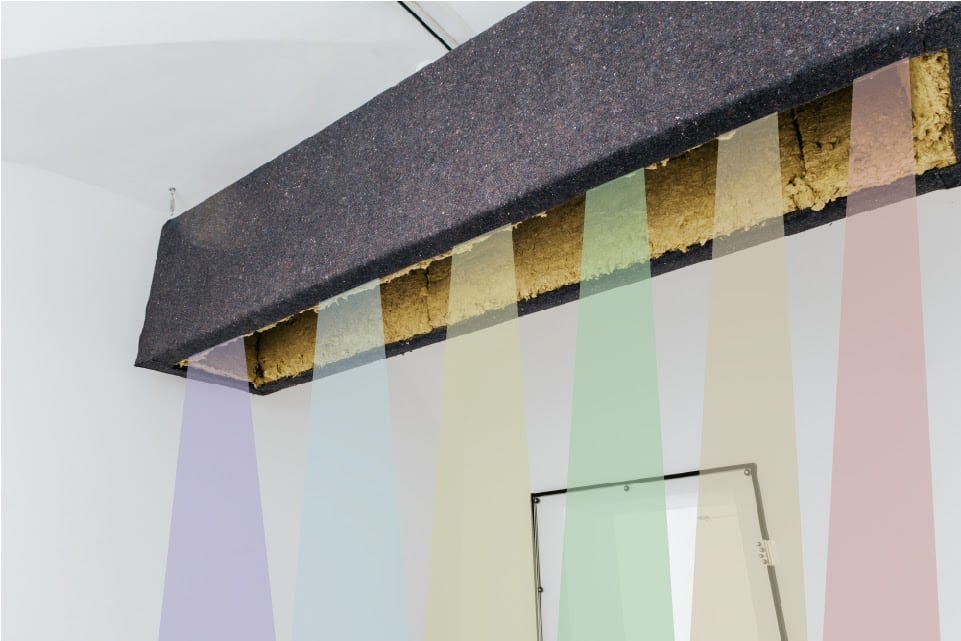 Intuitive instructions
During the month of October Focusonics® directional speakers appeared in the Vilnius Art Academy (VDA) gallery Artifex. The sound system was integrated into an exhibition "Intuitive instructions", created by Lithuanian artist Donatas Norušis. "Intuitive instructions" consisted of four sound installations that used physical features of sound to tell the artist's stories about the mythology of the art field.
For one of his sound installations, D. Norušis used Focusonics® Model A directional speakers. To create a feeling of sound as a spatial body, six speakers were integrated into the art piece, all playing unique focused sounds. This allowed visitors to hear how different musical notes were combined into harmony. Since the art installation was hung on the ceiling, visitors could listen to localized sounds only when standing beneath it.
Inside Donatas Norušis' exhibition "Intuitive instructions", the larger version of the Focusonics® sound system was installed. Due to its size, it is most appropriate in spacious areas for operating in the range of 3-15 meters from the speaker, yet it can reach distances of up to 30 meters. Its size and features allowed the creator to express his art from a sound perspective.
The more compact Model B would be suitable for smaller areas for operating in the range of 1-3 meters from the speaker. There is a possibility to create a custom-built Focusonics® sound system with integrated biometric technologies that can be used for targeted advertising without disturbing passers-by.
Other applications
While Focusonics® speakers were used as part of an art object, the sound system can have various other use cases. It can be successfully implemented in retail, engaging museum experiences, virtual source effect applications, public address and warning systems, and office areas. Directional speakers can be used to personalize the experience and localize the sound to a specific area when peace and quiet need to be maintained elsewhere.
Contact us now for the possibility to bring your ideas to life.